Kees Oosterlee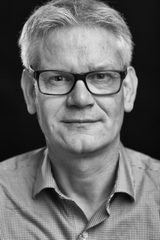 Full Name

Prof.dr.ir. C.W. Oosterlee

Function(s)

Scientific Staff Member, Professor - TU Delft
Email

C.W.Oosterlee@cwi.nl

Telephone

+31 20 592 4108

Room

M130

Department(s)
This user has not written a biography yet.
This user has not created a research page yet.
Projects
Uncertainty Quantication in Hydraulic Fracturing using Multi-Level Monte Carlo and Multigrid
PORO SOS

Efficient numerical methods for deformable porous media. Application to carbon dioxide storage
WAKEUPCALL

Applied mathematics for risk measures in finance and insurance, in the wake of the crisis
Professional activities
professor

Technische Universiteit Delft - [TUD]
boardMember

Economic Development Board for Metropole Region Amsterdam
committeeMember

Member Innovation committee: Platform Wiskunde Nederland
chair

Chairman: National Committee "Scientific Computing" (Werkgemeenschap Scientific Computing) in the Netherlands
committeeMember

Member Research Committee: PWN (Platform Wiskunde NL).
editor

Member editorial board Journal: Open Applied Mathematics Journal
editor

Member editorial board Journal: Computing and Visualization in Science - [CVS]
editor

Editor-in-Chief Computational Finance, Incisive Media
editor

Ass. Editor Computing and Visualization in Science (CVS), Springer;
grant

EU Marie Curie EU Marie Curie incoming fellowship, for prof. F.J. Gaspar, numerics for CO2 storage, financed by H2020, 150K Euro
grant

EU H2020EID WAKEUPCALL financed by EU H2020, coordinator with 6 PhDs (2 of them in the Netherlands, K.W. Chau and A. Fontanari), 1.5M Euro