Julian Salamanca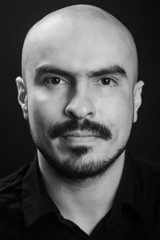 Full Name

J.R. Salamanca

Function(s)

PhD student
Email

J.R.Salamanca@cwi.nl

Telephone

+31 20 592 

Room

L215

Department(s)
Biography
2004 - 2008: BSc in Mathematics, Universidad Nacional de Colombia, Bogota, Colombia. 2008 - 2010: MSc in Mathematics, Universidad de los Andes, Bogota, Colombia. 2011 - 2012: Full time professor, Politecnico Grancolombiano, Bogota, Colombia. 2012 - 2014: PhD student, University of Manitoba, Winnipeg, Canada. 2014 - present: PhD student, Centrum Wiskunde & Informatica, Amsterdam, Netherlands.
Research
My research interests include universal algebra and coalgebra and the use of categorical methods for their study. I have worked, during my bachelor and masters, on equational conservative extensions and implicitly defined operations. During my PhD I focused more on category theory, algebras and coalgebras. During the last years I have worked on equations and coequations, dualities between them and Eilenberg--type correspondences by using category theory.
Publications
Salamanca Tellez, J.R, Bonsangue, M.M, & Rot, J.C. (2016). Duality of equations and coequations via contravariant adjunctions. Presented at the International Workshop on Coalgebraic Methods in Computer Science. doi:10.1007/978-3-319-40370-0_6

Salamanca Tellez, J.R, Bonsangue, M.M, & Rutten, J.J.M.M. (2015). Equations and Coequations for Weighted Automata. In Proceedings of International Symposium on Mathematical Foundations of Computer Science 2015 (MFCS 0) (pp. 1–21). Springer.
Current projects with external funding
Enhancing eciency and expressiveness of the coinduction proof method (EcoPro)