Georgios Amanatidis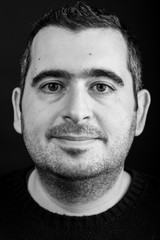 Full Name

G. Amanatidis

Function(s)

Researcher
Email

Georgios.Amanatidis@cwi.nl

Telephone

+31 20 592 4160

Room

M236

Department(s)

Homepage
Biography
I joined the Networks and Optimization group at CWI as a post-doctoral researcher in September 2017. Before that, I completed my Ph.D. at the Department of Informatics of Athens University of Economics and Business, supervised by Vangelis Markakis. I hold a Master's degree in Mathematics from Georgia Institute of Technology and a Diploma in Applied Mathematics from the National Technical University of Athens.
Research
My research interests lie in theoretical computer science. In particular, I enjoy working on approximation algorithms, computational social choice, and algorithmic mechanism design.
Publications
Amanatidis, G, Christodoulou, G, Fearnley, J, Markakis, V, Psomas, C.-A, & Vakaliou, E. (2018). An improved envy-free cake cutting protocol for four agents. In Proceedings of International Symposium on Algorithmic Game Theory (pp. 87–99). doi:10.1007/978-3-319-99660-8_9

Amanatidis, G, Birmpas, G, & Markakis, V. (2018). Comparing approximate relaxations of envy-freeness. In IJCAI International Joint Conference on Artificial Intelligence (pp. 42–48).
Current projects with external funding